Number 23 (1996)
Articles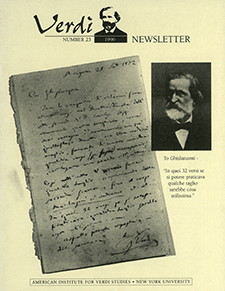 Cover illustration.
A letter from Verdi to the librettist Antonio Ghislanzoni (1824-93). Courtesy of the owner, Advisory Board Member, AIVS; Music Director, The Sarasota Opera, Victor DeRenzi
St Agata, 28 Sett. 1872.
Caro Ghislanzoni, Ieri le pregava di volermi fare alcuni versi nel duetto Finale dell'atto secondo del D. Carlos. Oggi ritrovarle qualche preghiera, vorrei che cercasse d'acconciarmi un po' quello stesso duetto ove Ella credera meglio, facendo di nuovo anche qualche verso (se sara necessario) per legare un periodo all'altro!. . Cosi nell'Atto V vorrei fare qualche taglio cominciando dalle seconda scena, fino al verso 'Ma lassu ci vedremo et. et. ..' In quei 32 versi se si potere praticava qualche taglio sarebbe cosa utilissima. Aspetto pronta risposta e mi dico sempre,
Amico vostro (?)
G. Verdi.