Number 12 (1984)
Articles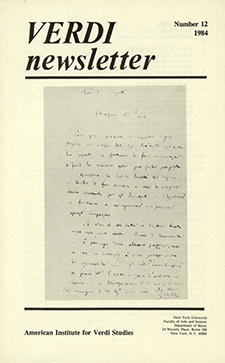 Cover illustration
We are indebted to advisory board member Sidney Cox for sharing with us this previously unpublished letter, one that shows the composer in uncommonly high spirits. Much of the humor of the second paragraph depends on our being aware that Verdi was firmly opposed to writing occasional music. Pasetti was a member of the composer's Milanese circle of friends during the early years of his career. The first performance of Ernani actually took place March 9th.
Venezia 13.2.44
Caris [simo] Pasetti,
Con gran piacere ho ricevuto il suo foglio col mezzo del Sig' Radaelli col quale ho avuto la fortuna di far conoscenza: e jeri ho ricevuto altro suo foglio per posta.
Qualora la Nobile Società del Casino si decida di far scrivere a me la musica della Cantata per gli Scienziati io l'ascriverò a fortuna e m'assumerò con piacere quest'impegno.
So che si son dette a lontano tante cose sul mio conto. Siamo di Carnevale ed e permesso dire alcune pazzie, ma a me a Venezia e mai successo nulla di spiacevole. ___ Giovedi 15 incomincierò le prove dell' Ernani e spero d'andare in Scena il 2 Marzo: verso il 7 sarò a Milano. Mi riverisca la sua Sig.a e mi creda
Suo Amico
G. Verdi.