Richmond College's first student publication, Monthly Musings, was the precursor to The Messenger. Jointly sponsored by the two campus literary societies, the Philologian and Mu Sigma Rho, it served as a "mirror of college life and the exponent of college thought." In 1878 the name was changed to The Messenger and continued as a literary magazine and miscellany. Archival issues of both Monthly Musings and The Messenger are presented here.
Current Issue: Volume 24, Number 8 (1898) The Messenger, Vol. 24, No. 8
Complete Issue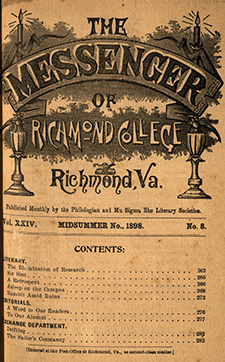 The Messenger
Midsummer No., 1898
Vol. 24, No. 8
Editor-in-Chief.

Henly Mitchell Fugate.

Associate Editors:

Literary

Edward D. Turner, Philologian.

Robert S. Garnett, Mu Sigma Rho.

Collegiana

Archibald C. Harlowe, Philologian.

George P. Bagby, Mu Sigma Rho.

Athletics

Robert Lee Williams, Mu Sigma Rho.

Exchanges

Chilton C. Pearson, Mu Sigma Rho.

Alumni

Evan R. Chesterman, B. L.

Business Managers.

John Jeter Hurt, Philologian.

Benj. H. West, Ass't, Mu Sigma Rho.